1800 S Monroe St., Tallahassee, FL 32301
1-850-222-5847
There are several programs that will "Preflight" your PDF on its way to a print shop; it's not a mystery nobody uses them. Too much information, mostly impossible to understand. Good news: we can show you how to quickly X-Ray your own PDF using two features in Adobe Acrobat – that is to say verify it's ready for for printing. In the time it takes to read this post you could have run both of them.
Got Fonts?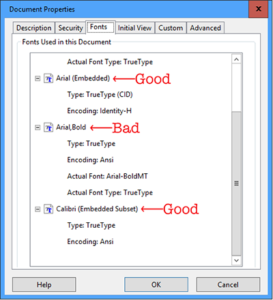 For a variety of reasons, many applications have default PDF settings that don't embed (store a copy of) the local fonts from your machine within the PDF itself. This may not be a problem, the system at the print shop may locate its own copy and carry on. Significant problems are possible, however, if there is no local copy and the system rejects the file, or worse makes an inexact substitution with a version it deems close enough. This may insert hard-to-detect errors from one end of your document to the other. Here's what you can do:
In Acrobat go to File>Properties and then the "fonts" tab in the box that opens. Look to see that every font listed, and there may be many, is followed by "(Embedded)" or "(Embedded Subset)." If that notation is missing there is no copy of your version of that font stored in the PDF. Solutions include changing the original app's PDF settings to include the font, or determining if the font itself is not licensed for export (as happens with "free" fonts).
It's not the end of the world if you can't resolve the issue; alert the printer that the problem exists and ask if a fix is available (we got ways). Also, you'll want to be sure to carefully review any proofing you receive for the job.
What Color is your Rainbow?
Question One: What colors will be used to print your job? Question Two: What colors are actually in your PDF? Usual Answer to Both: "How in the world should I know"? I'm going to tell you exactly that. This Adobe Acrobat tool can be a little tricky to locate, depending on your version, but it's worth the effort.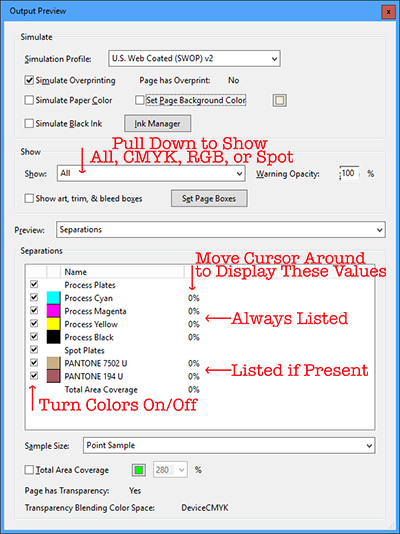 In Acrobat go to Tools>Print Production>Output Preview, and a miraculous dialog box is waiting to show you exactly what you have. This box lists every printing color contained in your PDF, and will preview what elements are in CMYK (good), Spot Colors (also good, assuming you want to print in spot colors), or RGB (bad). Remember; RGB is not a printing color model, so any RGB elements will be converted to CMYK possibly altering the appearance of the final product.
You will be fascinated (I hope) to turn individual colors on and off and see how images are built; if your "Black" is just black, or whether it's actually a blend of CMYK; and just how many copies of the same spot color are living together under various aliases.
There is almost no limit to what can be learned from this simple utility. With the dialog box open, moving the cursor around will display the percentage of each color at that point. Do your blues tend to print print purple? Learn how much magenta is actually in the mix that your RGB screen is not previewing well. The numbers do not lie, but your screen can, and will.
Now that you posses the super-power of knowing how to quickly X-Ray your own PDF, even more abilities await. As with all Adobe products, Acrobat's Preview and Pre-Flight capabilities are almost limitless. If you feel worthy and want even more powers click here.
Check the fonts, check the colors, if problems show up give us a call!
Hugh Butler
Several years ago a friend asked for help with a sponsorship for Capital City Youth Services; specifically printing for their Tally Awards. He's a longtime customer and made a quick pitch why he was passionate about CCYS. 2017 is the fourth year we have participated.
This year we were happy to win a Tally Award, (for Technology – Graphic Design), as we're proud of what we do. We got our picture taken and had a great time at the Tally Awards, but that's not the point.
Here's the point:
Leon County schools reported 870 homeless youth during the 2015-2016 school year
While delivering the programs I was given a tour by the CCYS Outreach & Development Director, who explained the scope and complexity of the organization's mission. Twenty minutes later I had learned something important; there's a large, unseen population of young people in the Big Bend who have no place to go for food, clothing, and shelter. I learned about the scarcity of services to alleviate the impact of teen homelessness. Most important, I learned about the multi-faceted approach CCYS takes to engage these young people.
To get an idea how large a need CCYS addresses, consider this:
Leon County schools reported 870 homeless youth during the 2015-2016 school year, many of these youth are served by the CCYS emergency shelter.
CCYS served more than 1,250 youth last year across all programs.
CCYS' crisis hotline is available 24 hours for referrals. Any youth, family member, caregiver, counselor, friend, etc. can call to see if CCYS can be of assistance.
To get an idea of how effective CCYS's six programs are, consider this:
82% of youth remain housed or employed after receiving street outreach services.
92% remain non-adjudicated (have not been arrested) 6 months after receiving services.
If you might like to help, consider this: "CCYS works to alleviate the immediate problems of youth during runaway or other crisis situations, reunite runaway, transient and other youth in crisis with their families, strengthen family relationships, help parents and youth decide on future courses of action, prevent juvenile crime, and prevent domestic violence and abuse."
Much as our customer asked us, we are asking you to support Capital City Youth Services. Gandy Printers is glad to know there are dedicated professionals undertaking this mission, and proud to be a sponsor.
by Hugh Butler, April 6, 2017
Pantone LLC, the global authority on color, has designated PANTONE® 15-0343 "Greenery" as Color of the Year for 2017. The company describes "a refreshing and revitalizing shade, Greenery is symbolic of new beginnings."
Never at a loss for words, Pantone Color Institute® Executive Director Leatrice Eiseman says; "Greenery bursts forth in 2017 to provide us with the hope we collectively yearn for amid a complex social and political landscape. Satisfying our growing desire to rejuvenate, revitalize and unite, Greenery symbolizes the reconnection we seek with nature, one another and a larger purpose."
Who are we to disagree?
You can read about this visual delight, in detail both sumptuous and technical,  at the Pantone website Here.
PANTONE® is the standard language of color communication from digital design to printed image, but this is just the tip of the iceberg. Any creative professional working in or across multiple media, (digital, textile, print, fashion, paint, etc), should make a New Year's resolution to visit the Pantone website Here. You'll be rewarded with ideas, inspiration, and the good feeling that there are people in this world who care about color even more than yourself.
Hugh Butler, January 5, 2017
Final touches over the Holidays mark the completion of a year-long overhaul here at Gandy Printers. New and upgraded equipment has made every area of our shop faster and more reliable. "My father built Gandy Printers up to be Tallahassee's first color printer, and we are now Tallahassee's most advanced, high quality color printer," said Bernie Gandy III, as we broke for Christmas. "Our customers now get the turnaround and quality they expect with less wear and tear on our people. Our guys have the right tools to do their job."
Most notable is the installation of Ryobi-MHI's Series 920 5-color printing press, running LED cured inks. This system utilizes UV light and specially formulated, non-petroleum based inks to provide true instant drying. Built for our short and medium run work, this press sets up in a fraction of the time needed by the old machine, and runs four times faster. Direct linkage to the prepress computers provides inking presets, so we get up to color right away, and the quick drying inks provide a cleaner, powder-free sheet that can be handled immediately. All of this means less waste, and product that moves through the shop faster!
If you like YouTube, and want to know more this machine (a lot more) click HERE and the lovely lady from RMGT will tell you all about it. The wonderful part is that, unlike most sales pitches, everything she says is true.
We've made improvements in our digital printing room and bindery as well. If you're a Gandy Printers customer, please accept our thanks for making these improvements possible. If you've not tried our shop yet, or in a while, we'd love to show you around. Make a New Year's resolution to give us a call!
Thanks for a great 2016, and Best Wishes for the New Year from all of us at Gandy Printers.
Hugh